If you plan on visiting Bangkok but you are wondering about things such as where to stay, what are your chances of getting laid and how easy Bangkok girls really are, you are on the right place.
Bangkok is the capital and the most populous city of Thailand. It's known in Thailand as Krung Thep Maha Nakhon or simply Krung Thep. Bangkok has a population of over 8 million.
Bangkok does not sleep. It's a city that's truly alive and free from a lot of the political correctness that you may find in the West.
Best known for its vibrant street life combined with the Buddhist shrines sprawled throughout the city, it's a great mix of 1st world and 3rd world living. Not expensive, tropical climate, great nightlife, lots of adventures and hot Thai girls.
Are Bangkok Girls Easy To Hook Up with?
Most of Bangkok girls can be described by their Asian features, small frames, black hair, and dark skin.
They might appeal as childish comparing with their European or Latin American counterparts but they do offer some refreshment when it comes to their sweet and feminine core.
Thai girls, in general, know their role as a woman and respect men. Let the man lead and will cook and clean for you.
They do dress very nicely in a very feminine way, and the sex is definitely not a taboo.
Bangkok girls are attracted to white foreigners. Saying anything different would be a lie. However, their main fear is being labeled by her family or friends as "aputa" that sleeps with the 1 weeker backpacker or sex tourist.
There are two main groups of Bangkok girls.
Light-skinned Bangkok girls whose families are from Isaan. They are most likely from Northen part of the city where you can find them. They are a bit harder to get and usually won't set up for a typical backpacker only because he is white.
For me, these girls are very sexy and attractive. You can also find them with online dating.
The second group is all the rest middle class darker skinned girls in Bangkok. They are very open to foreigners and if you are looking good, there is literally zero chances that one of the dark-skinned girls won't start flirting with you. They can usually be found in the Southern part.
Light-skinned girls have bigger status and they are also preferred by local men here, but that doesn't mean there is something wrong with other girls.
One thing is for sure, If your type is dark skinned Bangkok girl, you will have a time of your life.
As far as tourist women go, you can find Korean women and Japanese. You can also find western white girls, but I would suggest you stay away from those.
How to get laid in Bangkok
First thing, you want to appear as nice and classy foreigner, not the smelly sloppy backpacker.
You want to stick from the crowd. Be different than other American tourists that come here just to end up with hookers. To do that you have to analyze typical backpackers. They are poorly dressed and look poor.
So, do the opposite! I'm not saying you should spend more money, but look classy, look rich and serious. She expects to sleep with her typical American Psycho guy from movies, not some lost tourist.
Another thing to understand in Bangkok is that the girls are either heavily into foreigners or not. Very similar to getting laid in Colombia. There is no middle here. If a Thai woman wants you to invest some time into her that's because she doesn't want to be seen as a whore or she wants something more of it. Like a marriage or a green card.
What this means is that you find a way to filter the girls who are not interested in foreigners and find the hot ones that do date Americans.
Luckily for you, most of the Bangkok girls do date foreigners. But if you wait for their signal you may end up alone.
Approach girls during a day in Bangkok
I know most of you guys reading this have little experience in approaching women during a day, but the potential in Bangkok for a day game is just too huge to ignore it.
The logistics for this city are great when it comes to day game. Why? Because most of the crowded malls are located near the BTS line which means that you can easily enter them and walk from one to the other.
The top spot would have to be at the Siam BTS stop where you can find some of the biggest and nicest malls in the city like Central World, Siam Paragon, and others
Bangkok girls know why you approach them. If you start a girl on a street and tell her she looks interesting or that you like the way she dresses she will immediately know what you want. Being white alone means you are already "good looking" and there for you don't need to work on increasing your attraction. It's already there.
Instead, create some comfort and start touching her right away to see how she responds. If she smiles but pulls back, that means she needs more comfort. If she doesn't pull back you can invite her on a coffee or to your place right away.
Learn some Thai
Most women don't know English here. But, how hard can it be to learn a few simple sentences in Thai?
"You look interesting, nice dress."
"Let's go for a coffee"
"Come to my place"
"How are you?"
"Do you find me attractive?"
All you need is that. Most guys are lazy to put any effort what so ever. And learning these few sentences can be the difference between getting laid in Bangkok or being all alone for that day.
Nightlife
Nightlife is the reason most people come here. They all heard for legendary Bangkok nightlife. And it's true, it really gets crazy.
Unlike Ukraine, It really depends on what club you go but it all happens much faster than during a day.
This means that you should show intent fast when you approach a hot Thai chick. If you don't know the Thai language you will have to compensate that with dancing and fast escalation. Bangkok will be a perfect opportunity for you to practice non-verbal game.
Pro tip: Don't get in a fight with Thai. Every local guy that see that will come and join his side. Very similar to China.
Hookers in Bangkok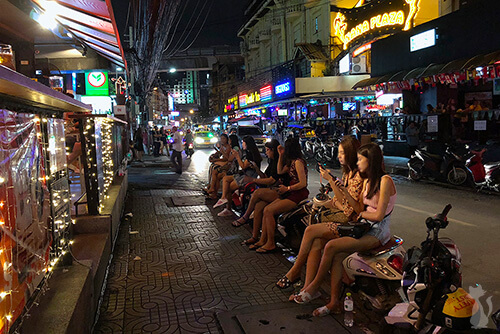 There are so many hookers in Bangkok you won't believe it. Let me say you this. Most guys end up with hooker without knowing it.
This is one more advantage of a day game because you are approaching random girls on a street. And there are fewer hookers walking in a mall than in Nightclubs.
Some prostitutes won't tell you what their job is until you have sex with her. Then she will ask for money.
The only way to avoid this is to ask her because chances are she is. Make sure you do that in a respectable way or when you get some comfort with her(when you are about to pull) because it's an insult to ask a nonprostitute if she is a hooker. I advise folks not to use a word hooker but maybe escort. (Khûmkạn).
That being said lets see some non-hookers nightclubs in Bangkok:
None Hooker night clubs
Route 66 – Open 24/7, gets crowded around midnight, but on weekends gets busy from 10 pm. It's known for Bangkok girls who are very welcoming to westerns. This is No. 1 place for westerns to find a girl in Bangkok. It's located in RCA, mostly played RnB and hip hop.
Slim/Flix – Similar to route 66, bit a bit tougher for westerns to get laid. Also located in RCA. Also plays hip hop but there is a room that plays house music. Closes around 5 am.
Funky Villa – In thong lo. There are not many tourists here and it's much harder to hook up with girls here. Nice but small place
Demo – Next to Funky villa, everything same like Funky Villa but only house music
Safe house – is an after party club located near Demo, it gets busy after 1 am.
Nung Len – Located in Ekkamai, plays a mixture of Thai live music and hip hop. Pretty hard to get laid here, But on the other hand I would say some of the hottest girls I have seen visit this place.
Now, I know some of you guys actually love hookers and want to experience it also.
Two clubs are known for this: Insomnia and Climax.
Where to stay in Bangkok
We are going to cover some areas but my suggestion is the Sukhumvit area because it has a sky train for easy transport, a lot of restaurants and bars, night clubs are close.
Nana – This area is very touristy and full of go-go bars, hookers, and fast food places. You will be harassed by taxi drivers if you stay there.
Asoke – Big hooker and freelancers scene. It has an underground metro service that gets you to the other parts of Bangkok. Has many hotels nearby and malls. Not bad for a day game. Lots of tourists.
Phorm Phong – If you want to get away from the aggressive taxi drivers and tourists you should try this place. It has a small park, a mall and lots of hookers bars. However, most of them are very relaxed with nice music and its easy to have a chat with workers. There is a smaller prostitute scene in this area.
Thong lo – This is place has a huge restaurant, bars, and clubs. Lots of expats, mainly western. Almost no bar girl scene here, any girl you meet is most likely to be a normal girl.
Ekkamai – It's just like Thong lo, some nice hipster style bars, cinema and apartments are cheaper. No hooker scene here.
If you are planning to stay here for a long time, go for Phrom Phong, Thong Lo and Ekkamai. Avoid big tourist places.
Hotels
When choosing hotel you need to ask yourself two things:

Does it have a safe? – When you pick up girls and get them to your room, don't leave money on the table. That would be very stupid. Instead, hide your cash. There are other people that have their eyes on a rich western man. So, be warned, try to have a room with a safe.
Is it close to the main road? – You will have a difficult time finding a taxi if your hotel is deep into a Soi. Walking 10 minutes in the heat is not always a pleasant experience.
Obviously, you want to know if it's guest Friendly and is it expensive but those don't need to be explained.
Cost of living in Bangkok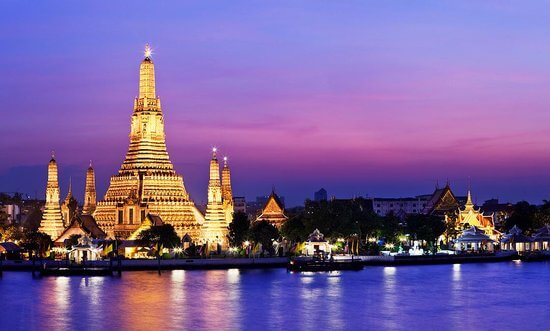 You can live in Bangkok for around 1600$ a month on average.. You can go as love as 900$ but you would need to live on the outskirt of Bangkok.
Conclusion
Bangkok is still a good place to go if you are looking to get laid with hot girls without putting too much effort into it. Nightlife in Bangkok is something no one can describe. You really have to experience it. It's very unique and exotic.
That being said, going to Thailand is an adventure and all that experience change people. Many guys that I knew stayed there, many want to live there but can't. If you are able, go visit Bangkok, enjoy the girls, good climate and extraordinary nightlife.