Writing a complete Shanghai nightlife guide was quite a challenge. This is a city of around 30 million people. Quite a few countries that I visited combined would still be smaller than Shanghai.
A freshly arrived foreigner trying to discover Shanghai is like a blind man trying to feel up a whale, and then have to describe it. This is why I will focus only on Nightlife and girls in Shanghai through this guide.
If you think that you lived in a city that doesn't sleep, think again. Think again after you get to Shanghai and have a tour around the city in the middle of the night then you can tell someone that you lived in a city that doesn't sleep.
As years passed, Shanghai really built his reputation as a tourist place. That's all because the touristy attractions found in the city and the Shanghai nightlife events.
If you are a type of guy that loves to spend the night partying rather than sleeping, then Shanghai is the best place for you in the world.
There are quite a lot of clubs and bars to check out in Shanghai that you should visit. So I made you a list that will make your club and bur hunting much easier.
But first, lets talk about women.
Shanghai Girls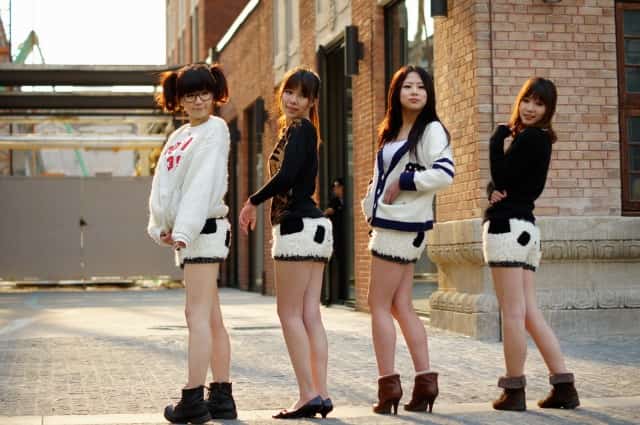 First, let me say that women in Shanghai are far more attractive and stylish than those in Beijing. The cute, porcelain, white skin doll look is still preferred by locals but since Shanghai is such a big international city you can find girls who are really sexy.
Girls in Shanghai were far more aggressive in foreigner hunting and far more open to one night stands than those in Beijing.
Several girls told me that they only that white models. The girls seem far less conservative than those in other parts of China.
One thing surprised me. If you are good looking, girls will approach you and propose to go home with you. Married women also.
However, since there is a large foreign model, and US-born Chinese and tourist population, I suggest you stick to approaching locals or Chinese girls.
Girls in Asia, in general, respond much better to the "fun and exciting" guy than to the cocky guy.
If you don't know the Mandarin language you will want to find Shanghai girls that speak English.
Visiting English corners, casual social events organized to practice English is actually a way to meet girls that are there to find a boyfriend. They don't really want one night stand but long term relationship.
As this is not the pick up guide, lets move on to the main subject.

Shanghai Nightlife Guide
There are quite a few distinctions for the clubs in this Shanghai(you can go out 7 days a week) depending on how you classify them. I divided them into three groups.
-Mainstream clubs
-Underground clubs
-Bund Clubs
The Shelter
At the moment of writing this guide, The Shelter is one of the best club in Shanghai. It's been the most famous club on the Shanghai nightlife scene for some time now.
Just like the other clubs, The Shelter also has its own DJs that are famous. Wednesday is hip-hop and Thursday is for techno.
At weekends it closes around 6 am and they usually ask for an entrance fee during Fridays and Saturdays. However, their drinks are cheaper.
Arkham
If you like The Shelter you will like Arkham. It can be found at Wulumuqi Lu and it's also a good place to have fun. This is a club that can have 600 to 800 people.
It's open only on Fridays and Saturdays. It's a good place to have cheap bears and drinks.
Lola
Lole is the type of club where you can party until the sun rises. They close around 7 am! So you have more time to have fun. This is a lounge, but after midnight it starts to look more like a nightclub.
It's located at Yongija Road and it's open Wednesday until Saturday and just with some other clubs in Shanghai, Lola too has it's best DJs that are very good. Mostly they play house but sometimes techno or disco music.
It's a bit pricier than M2 with around 60rmb a bottle but you can try some of their cocktails as well. And make sure you reserve a table ahead.
Dada
Dada is one of the oldest clubs in Shanghai that was able to maintain its brand so props to them. It's located at Xingfu Lu, and at Dada, you can find both a nightclub and a dive bar.
The music they play is house, techno, and disco, and if you are lucky you can have fun with some of the famous DJs in the whole of China. The crowd here in Dada is more of the youngsters who love to party all night long.
The good news is that you can have nice drinks in dada with only 30 to 40 RMB.
It usually closes early during weekdays but on the weekend it can be open to 5 am.
Monkey Champagne
If you miss American style clubs here in Shanghai I have good news for you, there are tons of clubs like that. Monkey Champagne is one of them
If can be found in Donghu Road, or 10 mins walk from South Shaanxi Rd if you go by metro.
You can find around 200 locals and foreigners having fun in the club. As the name speaks itself, you can find great champagne inside the club and they also have their whiskey which is a bit expensive.
The music that plays here is top 40s hip hop music.
M2 Club
This is a well known mega-club. It's located at Huai Hai Zhong Lu. This place is so huge you will be surprised. Make sure you hit the dance floor.
The music is usually trance, except for Wednesday, then it's hip-hop.
M2 Club usually closes at 3 am to 4 am during weekdays but when it's a weekend, they could go up to 6 am. Drinks are not expensive.
Bar Rouge
Bar Rouge started in 2004 and it is a very famous club to this day. It's a very unique and classy club. They even have their ladies every Thursday.
The music that plays here is house and techno. It's located at Zhongshan Dong Yi Lu.
TOPS at the Banyan Tree
If you want to feel like you are on top of the world, check this rooftop bar. TOPS is located on the 13th floor of the Banyan Tree Hotel. It's glamorous and has chill-out music. You can dress casual. This rooftop bar is pretty expensive but one of the hottest chicks go here almost every day.
Is there anything else to do in Shanghai except for clubbing?
Shanghai World Financial Centre
If you like the TOPS rooftop bar, maybe you want to take a look at Shanghai from Shanghai World Financial Centre. You can have an amazing view of the Shanghai nightlife from the 100th floor.
If you are brave enough you can try their skywalk that is made of glass which gives you a better view of what's happening below.
Acrobatic Shows
If you want to experience the creativity and culture of Shanghai you should definitely see acrobatic shows. Engaging in such activities is a must if you want to know more about Chinese culture.
What you will see is people showing off their talents in acrobats, juggling, balancing, etc.
Some of them do pretty intense stuff. You can find a lot of it in Shanghai Centre Theatre or Circus World.
Conclusion
Shanghai is one of the biggest city in the world, and you should definitely pay attention to it. Nightlife is amazing and there is always something new to experience. On the other hand, there are a lot of migrants, locals, tourists that come here to experience the famous Shanghai nightlife. There is room for everyone and if you come here as a foreigner, you will definitely have more luck with girls