You clicked on this article about Russian cupid review because you probably dream about dating a beautiful blonde Russian girl. Or multiple Russian girls. And I know damn well how a man feels when he discovers how beautiful, honest, sexy and nice Russian women are. Once you experience Russian women and how they respect and cherish their boyfriend, it's really hard to go back to western women that were raised by TV watching Sex and City dreaming of becoming Samantha.
Going crazy for Russian women is not something that happens overnight. At least it's not how it happened with me. First, you hear stories about how beautiful girls are in Russia; you hear all sorts of stories, good and bad. Then you see some famous Russian women and think, oh they are hot. Is every girl in this country hot like that? After that, you decide to go to Turkey, Egypt or Montenegro, and there you find a lot of Russian girls on the beach walking next to you. You approach them, get a few numbers. Maybe you go on a date. And from then on, your life is changed. I was so in love with Russian chicks that I went to Russia, and there I started to date their women.
I liked it so much that I ended up staying for a few months and I even learned some Russian.
But getting dates in this country wasn't easy. Approaching girls at day or night is entirely different than in the US, so it takes time to learn all tricks and tips. I almost gave up.
Luckily, a friend showed me one app that helped me at the beginning to get some dates and meet few beautiful girls in Moscow. Yep, you guessed it, that app is Russian Cupid.
I am so thankful for this website that I decided to spread the word about it and write a Russian cupid review, so that guys who are struggling learn how to use it and finally get what they want.
Is Russian Cupid another eastern European dating agency?
You know those dating agencies where you have to pay for even messaging a girl. Some sites are legit, others are scams, but the problem with it is that mostly, they don't let you exchange phone numbers, email, skype or any other contact information with a girl.
Well, Russian Cupid is not one of them.
That fact alone proves that Russian Cupid is a legit Russian chat app and that women on here are real. Every time you have your doubt about a particular dating site, you have to ask yourself, do they let you exchange skype or phone numbers with women? If you continue to chat with girls on your phone or Skype, that's mostly a sign that the girls are real and interested in you.
Fake Profiles?
People have been most concern about spammy fake profiles. And to be honest, I was too. After I signed up and upgraded my account to platinum membership, I chatted with few girls. They were all looking very good, and I understand why some folks would think that it's fake. I also got contacted by a girl and thought it was fake. But two weeks later we went on a date (more on that later).
I have to say, none of the girls asked me for money. The fact that there are no girls whose profile picture look professional and that the site allows you to chat with her directly and allows you to exchange information like phone numbers and Skype speaks for itself.
There are 543 testimonials of mostly western men as well.
I understand a fear of being scammed, but people who do not allow themselves to be scammed can't be a victim of a scam on dating sites. If you don't talk bad about your boss, give your wife's phone number or give your personal information, there is just no way anyone can blackmail you or take your money.
This company is operating for about 16 years, and I am sure they want happy and satisfied customers.
Russian Tinder equivalent
When it comes to internet and communication in general, Russians tend to use alternatives. They use VKontakte instead of Facebook, Signal and Telegram instead of Viber and Whatsup, Yandex instead of Google and so on… Why is that? I don't know. But it's the same with online dating.
When I first came to Moscow, I tried Tinder. Got some matches but very low response rate. Didn't get a date and girls were very flaky. It was obvious that tinder is not a dating site Russian girls use, they may install it, but they don't check tinder very often.
This is why I decided to try Russian cupid and it's been a completely different story, there are many girls using this app on a regular basis, and this is the main reason Russian Cupid is better than Tinder when it comes to Russia.

Girls on Russian cupid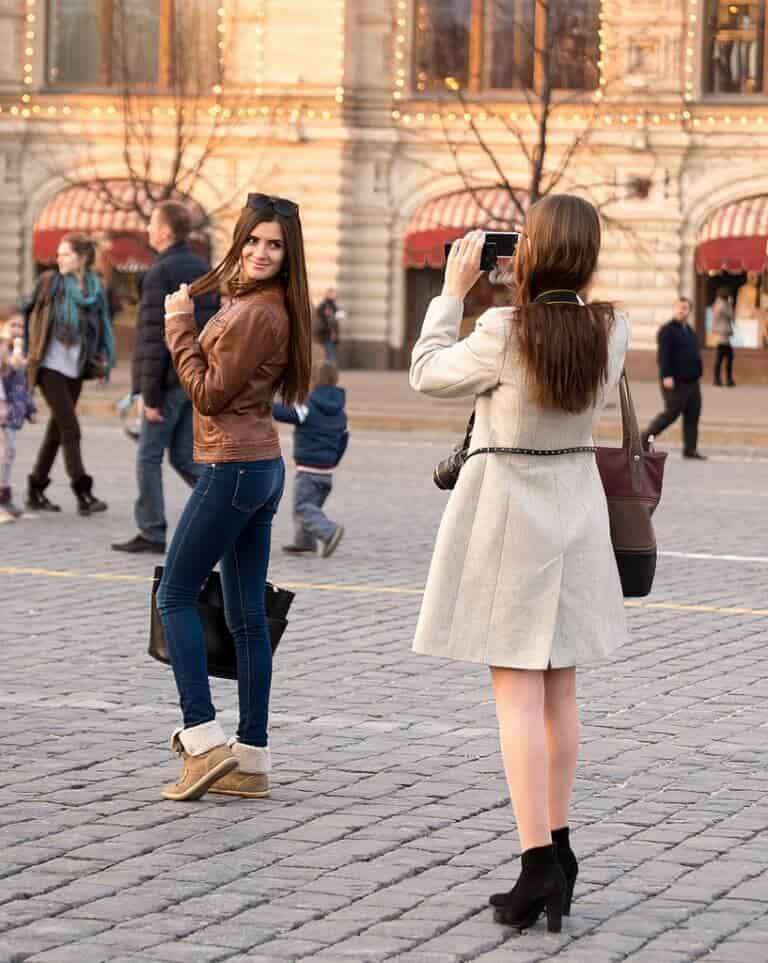 "Russian girls only want your money."
We all hear this one. And it would be true, 20 years ago when the country was in big trouble, economically speaking, and on the verge of a civil war. The situation was so hard that when a man from western world came to ex-USSR republics, girls saw him as a last chance to save herself from misery and move to the US.
Today, things are a little bit different, not only that situation is better but you are no longer a god in Russia just because you have the money or because you come from the states. Don't get me wrong, there are gold diggers like in any other country, and I like to call them "club girls" because you will meet them every Saturday night at the same club.
But trust me, club girls don't use online dating sites often (or use those sugar daddy dating sites), on the contrary, girls who don't go out a lot use it and those girls are not experienced in dating. Most of the girls on this site are sweethearts looking for a relationship. You will find more adventurous girls if you look for them of course, but most of them are looking for commitment.
All of the girls I talked to are students or have a normal job. German/English teacher, working in a bank, restaurant worker, etc.
My experience
As I said, when I first got to Moscow, I tried approaching girls on the streets of Moscow. I got some results, but it wasn't what I was hoping for. After I understood the mentality of Russian people, my success rate went up, but until then, all I was left off was an online game.
That's when I decided to go with Russian cupid. I signed up, and it didn't take me long before I upgraded my membership to Platinum status.
Right next day, when I woke up, I saw a new message:
Suspicious right? When was the last time girl sent you something like this?
Well, first of all, this is why Russian women are different from American women. They are more honest, direct and aren't afraid to contact you first.
Of course, my first thought was that this is a fake spam message. But I was wrong. We chat a bit, and unfortunately, she lives in a town I didn't plan on visiting, and it was far away from Moscow. But we clicked right and had an interesting Skype session.
Next day I started to use this text and copy/paste it to 20 different women:
"Hey [her name], you look interesting and crazy enough to ask you out. I just came in Russia 2 weeks ago, and I was wondering if you can show me around and maybe go on a coffee with me? What works for you better, Friday or Sunday?"
Straight to the point.
Out of 20 women, only 3 didn't respond. 12 told me something like this:
Most women on this site are looking for a long-term relationship and something serious. And Russian women don't hide it. They want to know what's going on, so they don't waste their time. Fair enough if you ask me.
What's with other 5 women? 3 of them seemed interested but required that I put more effort:
And 2 girls responded very well:
and after some chit-chat, she gave me her number:
This is the girl I spend 3 wonderful weeks with.
It's completely clear that this isn't exactly a hookup app. If you are looking for short term relationships, you will have some success of course. But Russian women love and crave stability and commitment.
You will get "how long are you going to stay in Russia" very often, so you better prepare an answer to that.
I suggest you note that you moved to Russia or intend to do so in short future. Or simply tell her that you are interested in Russian language and culture. That would be just enough for her to feel comfortable that she's not wasting time and energy.
After I added those things to my first message, I got better results. Let me share with you some of the results:
Big breast brunette girl:
This cute girl wanted to go on a Skype with her, after which we went on a date. Very interested and loving person.
Favor for a favor girl
Russian Cupid Review Questions and Answers
Obviously, if you are into the online game and going to Russia, this Russian dating app is a must. You will find all sorts of women but more than anything women that want a relationship or even marriage.
What type of men do Russian girls look for on Russian Cupid?
What kind of profile is best to have on this app? First of all, write in your description that you plan on staying in Russia for at least couple of months. Write something like "I don't speak Russian but very interested in learning it." Anything that makes you look like you are interested in their culture or going to stay there. This is a huge plus. Upload some photos of other places you have been or photos with cool friends. I also noticed that pictures of me in a suit do very well here.
"Hey George, do I have a chance on Russian cupid as a 40-year-old guy?"
Of course! Actually, I think 40 year old men would do better judging by the number of MILFs on this site. There are so many women from 30-40 years old looking for a guy to settle with; you would be surprised.
There are so many women here that there is room for everyone.
Best Russian dating site?
Top two dating sites that Russians use these days are Mamba and Russian cupid. Why did I write Russian cupid review and not mamba review? Because mamba is mostly for guys that speak Russian. There are not so many foreigners there, as they are on Russian cupid. That's why girls who know English sign up for this site instead of mamba. I heard nothing but good stuff about mamba from guys who know how to speak Russian, so if you know the language, check it out!
It should be said that not all women on Russian cupid know English, it's just that the percentage of such girls are higher than on Mamba.
Safety
Cupid Media is a company that has been in dating world for more than 16 years. It's a leader in international dating for sure. They are very professional and have customer service that will answer all your needs in less than 24hours.
As far as safety goes, it's same as with other dating sites – don't share information you are not supposed to. Don't talk bad about your boss, don't give women your credit card number, etc. If you connect with Facebook, Russian Cupid will not reveal your profile, and they are not allowed to publish anything on your Facebook profile!
What's for free?
It's free to sign up and get access to 1 million beautiful women from Russia and Ukraine. You can see their pictures, send them likes and message them.
However, they will not be able to read your message because you don't have a premium account. To chat with girls at least one of you have to upgrade to premium profile.
You can choose between gold and platinum status
When you decide to upgrade your profile, you will notice two options:
This is not expensive for most of you reading this. If you take the full 12 months Gold package, it cost something like 40cents a day. If you, however, take the 3 months, it's only 80 cents a day. Now, if you are in Moscow, I'm sure you can get a date in 10 days like I did, that means that you will be able to go on a date with gorgeous looking Russian girl for only 4$. That's pretty good investment if you ask me.
How much do you spend when you go out to a Night Club in New York or Moscow? 4$ for a date is basically a bargain.
Should I upgrade?
Now, I'm not going to lie to you. Russian women are not Chinese, Filipino or Japanese women. They are not open at first and will not give you credits only for the fact that you are American. You will have to put some effort.
But guess what, it will return to you multiple times more. Having a Russian girlfriend is amazing. She will respect and follow you. There is no drama with them like with western women, because they are honest, direct and not passive-aggressive.
If you want an honest relationship with a woman, who will respect you, cook and clean for you and above all love you, this is what you need. Of course, there are rules, and there are exceptions so you should always think before you buy a plane ticket to Moscow for that one girl.
Pro tip: Don't fall for that "gold digging" stereotype. If you are however looking for a girl that will be with you because you are rich, here is something to look at.
Gold vs. Platinum
Having Platinum membership is good for four things:
It gives you status with fancy VIPhiglighting, and status is always important when it comes to women.
You get to use a translator which is pretty good at translating Russian actually.
You rank above all members including GOLD ones.
You get access to girls in "Russian Bikini Babes Photo Gallery."
There is few more stuff, but it's best for you to see it here:
You should join Russian Cupid if:
You are in Russia, and you need women company.
You are looking for a good, respectful, loving wife.
You want to build a harem in Russia.
You are addicted to Russian women
What are some of the cons of this app?
Like we just said, women are more oriented to long-term relationship and marriage.
You have to pay to play.
Women are not as open as women in China, Philippines or Japan are. They are not giving you a value based on your ethnicity. Americans are not viewed as walking wallets anymore; we are not living in the nineties.
Pros:
Small paywall keeps the trolls out.
Cupid Media is trusted and legit company with more than 16 years of experience.
It's safe
Customer service is great. They can even help you with how should your profile look for better results.
543 testimonials prove that you can find a wife or girlfriend here.
Most women are family oriented.
Most girls reply in first 24 hours.
The monthly membership options are affordable, and there are no hidden costs.
The advanced search algorithm makes it easy to find girls interested in same stuff you are.
How to start with Russian cupid (complete guide)
Sign up to Russian Cupid
You can sign up completely for free here. You will have to put your first name, password and email address.
Upload a good photo
As soon as you sign up, you will get access to see girls on the site and search for them. So viewing them is only one click away now. After you sign up, it's time to add a photo.
What kind of photo should you add?
In my experience, Russian women best respond to serious looking guys. That means in a suit or leather jacket. There are two characteristics you need to have and for each at least one photo representing it. You need to look masculine and adventurous. This means no babyfaces, and this means that guys in their 30 will do best. Guys that are in the early twenties or forties have similar chances.
It also depend on what you want from this site?
Short term girlfriend, hook up? Then make sure to add some pre-selection and girls in your photo. Show that you are different.
Are you looking for a wife? Well, you shouldn't put other women in photos, but instead, you should look more mature and serious. Russian women, no matter what they look for, respond best to masculine men that can lead. Period.
Appearance, lifestyle and cultural values
There isn't too much to say about this. You can add things to your appearance that she can't see on photos. Just be honest.
However, when it comes to lifestyle, there you have to pay attention to:
Drink
Willing to relocate.
Now, I don't care if you are Irish and drink every weekend 10 bears or more, just don't put "drink."
Russian people are famous for their drinking problems. Things are better than 20 years ago, but the problem is still here. You can often see people on the street passed out of vodka. Women in this country despise alcoholics since it's so often here. If you drink a lot, at least put "occasional drinker."
Willing to relocate if you are outside Russia is a must, even if you are not sure just put "willing to relocate to another country."
A little about yourself
Here you can say something like: "My parents kicked me out when I was 12, and I never looked back" if you want just to hook up or " I am honest outgoing and hardworking person that is looking for that one girl that's going to make my life better and easier. I am not into games and hate drama" if you are more serious about this.
It depends on what you want. But make sure that whatever you write, you add: "I really love Russian culture and women of course, so I'm interested in learning Russian and discovering your big country!"
At "what are you looking for" part, try not to sell yourself short, but don't pretend to be someone you are not. Have standards.
Why?
Because that is attractive.
Pro tip: How to have standards and still not repel some girls? Write something every girl think she has.
Define your Russian hunting ground and preferences
Here you can determine what kind of women you would like to appear in your search. These match criteria will appear later in your advanced search.
This is what worked best for me when it comes to Basic Details when I just got to Moscow:
As you can see, you can exclude girls that think of themselves as below average, or that have few extra pounds. This is good and saves you a lot of time. Do you really want to get messages from girls that are large and lovely? Well, to be honest, I never got any message from these girls as they are pretty non-existent in Russia but this is still a good filter.
And yes, when you click on "more info" there is even something as hair length, which made me laugh.
However, this one is my favorite:
Now, this doesn't just filter out the girls that are not your type physically but also women who are looking for different things. If you are looking for a hookup, this is how this filter should look like. If you are looking for a long-term relationship or marriage, the best thing to do is to just leave it at "Any," or maybe you should change that and put something like, personality, prefer not to say, smile, etc.
And there is a special filter for you folks that are into breasts:
Interests
What kind of interests are you going to share with all those women? Have in mind that your algorithm will not show you women that are interested only in those things you are, but that this is more for girls to read when they land on your profile.
Use the cupid tags
Cupid tags allow you to tag your profile with certain words that represent who you are. This way, Russian girls can find you easily.
Verify profile?
Do you need to verify profile? No, you don't. I know I didn't and I'm completely satisfied with how girls react to my profile. So, I doubt this is a status symbol, but it will just save you some time. A lot of times girls ask you if you are fake, so having this helps you with that. Let me know if you notice any difference after you verified your profile.
Search for your perfect woman
Usually, there are between 1000 and 2000 Russian women online at any point. The best part is that most of them speak English. Right now it's 11:49 here in Moscow, and there are 1631 girls online.
There are so many filters when you are searching for women, it's almost ridiculous. Good thing that I like to use is cupid tags. If you enter "self-employed" or "entrepreneur," maybe you will find a wife that's hardworking. You can also put something like "cooking" or "family oriented" or whatever you prefer. This is why this site is so special; it gives you the ability to laser-focus your ideal women.
Pro tip: Popular Searches allows you to search for New Members. This is extremely important as I found out that those girls are the most receptive ones. You can also look for the most beautiful girls on the site.
But unfortunately, you can read their messages only when you upgrade your profile.
Last and final step – premium account
You are just one step away from chatting with your future Russian girlfriend. You have to upgrade your profile in order to chat with them. As I said, it's only 40 cents a day! 40 cents a day means 4-8$ for you to go on a date.
It is a good investment.
Sign up for free and see how many girls will prefer you or send you a message, but remember, you won't show up in their search always, gold and especially platinum status guys have the advantage over you.
But I can promise you one thing, as soon as you upgrade, there will be two to three times more messages and women visitors to your profile.
Right after you upgrade, you will get a notification, something like this:
Now you can chat with tons of Russian beauties.
When I first upgraded to Platinum membership, I sent the same message to 20 girls, and I got 2 dates from it. One of them was my plate for 2 weeks. If I made it, why can't you? Invest some effort and time, and it will return tremendously. Trust me, Russian women are worth it. They are truly LTR and wife material. And you know what? Moscow is big, so if you plan on having multiple relationships at the same time, it can be done, I won't judge you. Just make sure that you know what you want, so you know what and how to search for it.
I wrote Russian Cupid review because I think this is the best Russian dating app that exists. Who knows, maybe in future I will find something better since I plan on staying here for at least 1 more month, but until then, this is the best app that I can recommend to a foreigner who wants to date Russian girls. The only mistake that I made was that I didn't sign up two weeks before I arrived at Moscow. So I lost two weeks on nothing. But I am grateful to the guy who showed me this site, and I hope that you will be grateful to me in no time.
So, what are you waiting for? Sign up for Russian Cupid and conquer this beautiful country!